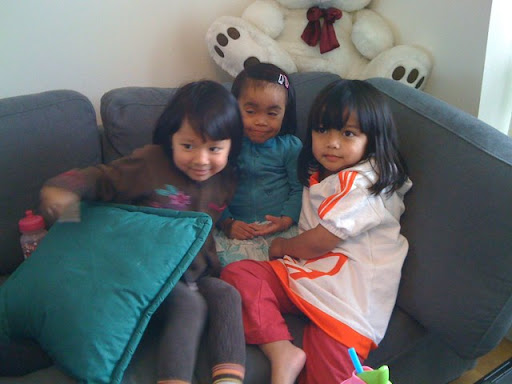 These girls are NOT for sale! Definitely NOT! The title does not have direct connection with the picture yeah! So dont misunderstood me! Hehehe...

Its just that, seems like these girls are meeting each other quite often for this particular week... Yesterday we had a mom's breakfast meeting, so they met and had fun playing amongst themselves...

And today, it was not a pre-planned playdate too but it happened that we were invited to the jumble sale at kak dewi's... So the girls met again and had MORE and more FUN!

The other ladies (aya, sherry, lynne & tila) and ME (of cos!) were having good times too... Sambil2 membelek2 barang2 yang kak dewi put on sale... We all dijamukan dengan mee rebus special lagik tau!!! Marvellous giler! Dah lama aku tak makan mee rebus! Aritu balik jb kejap puN tak menyempat nak makan mee rebus kat angsana! Oppss lari tajuk!!

Sebelum mengenyangkan perut makan 2 mangkuk mee rebus, aku gigih segigihnya membelek recipe books yang kak dewi nak jual... Lynne pun sama sebok berebut nak tengok! Siap simpan bawah bontot tu!!! Tak boley belahhh!!! Ekekekek... Dan seperti yang aku dah jangkakan... Memang most of the books tu aku yang rembat! Sebabnyer, kalau lynne simpan bawah bontot, aku simpan celah kelengkang tak bg org lain cop dulu! Akakaka... So silly of me!!

Aku ni memang giler beli buku termasuklah buku2 resipi tapi, nak tengok, belek and try resipi2 yang ada dalam buku tu, memang setahun tak sekali sebenonyer! Jadik hobi jer kot kumpul buku2... no harm maaa!!! Heheheh...

So, tu la dia cerita jumble sale! Sekian wassalam! Kekeke...