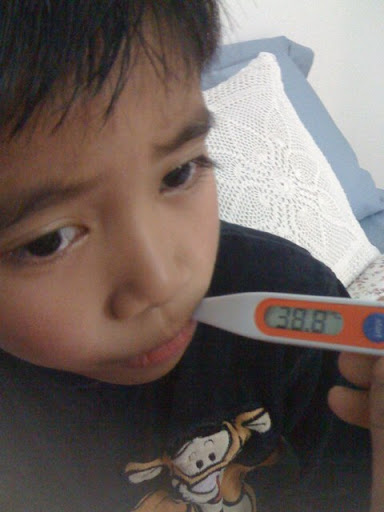 Tak tau lah samada he got a mild fever because of what had happened to him at skul petang tadi or vice versa....

Aku pun tak boleh nak agak sebab aiman tak penah camni... First mood swing, then he got depressed so badly... Ni tetiba demam pulak!

Sampai2 jer kat rumah tadi, he requested to have a cup of hot choc.... Aku tetiba perasan yang pipi and bibir dia dah merah menyala dah... Masa aku panaskan nasi aku check lunchbox dia... MasyaAllah, tak berusik pun... When i asked, he said that he only ate a little.... Selalunya kalau dia makan sikit pun nampak luak jugak... Ini tidak!

Then i thought that he would be very hungry sebab lunch tak makan sungguh2... Tapi tadi dia makan nasi pun setakat 3-4 suap aje... Nampak sangat dia takde selera... Aku cepat2 suruh dia makan ubat demam and minum orange juice... Sebabnya, aku dah nampak symptom2 demam dah kat aiman tu...

Lepas aku mandikan dia (dia yg mintak aku mandikan) terus aku check temp... Hmmmm memang SAH dah laaa... He has mild fever! Kesian betul kat aiman! Tetiba jer boleh demam pulak...

Aku dah letak bye2 fever kat dahi dia... And he has gone to bed already... Memang sangat awal dari biasa... before 6 pm dia dah lesu tak bermaya mengantuk nak tido.... Hopefully he gets a good rest tonite and tomorrow he will get back on his feet!

Aku tak sanggup tengok anakku sakit! Janganlah berlarutan demam aiman ni.... Dah le kat sini tengah swine flu outbreak! Ya Allah! Sangat scary okie... To even think about it pun dah cukup menggerunkan aku!!

Owhhhh daddy! Anakmu sedang sakit!