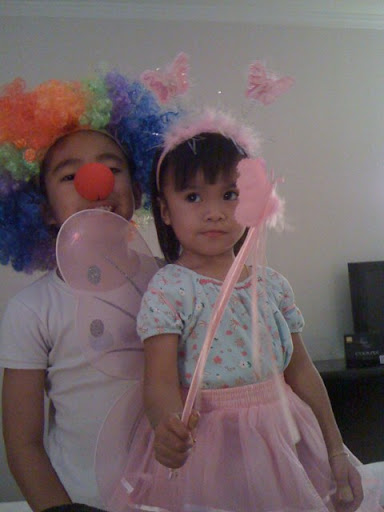 Arini Tuan Beso kena pow dengan anak2 dia beli accessories for the new year party! Well actually bini dia yang mengePOW sebenonyer... Saje jer Gunakan alasan for the kiddos! Hik hik hik... Tapi memang betul pun semua tu utk kiddos walaupun yang terlebey semangat nak menyopang tu ialah maknyer!

Memang takde plan awal pun nak buat new year party... Tapi puan sri aya dan datin seri lynne yang rajin bebeno nak mengorganise the party... Dengar citer memasing dah rancak dok bincang nak masak apa yea for that nite... Wow wieee!!!

We all sefamily memang ON jer and yang lagik best aku cuma perlu sediakan tempat berPARTY sahaja... Yang lelain semuanya dorang yang uruskan... Aku Tak yah sesusah nak dok kat dapur! Ekekkee... Dasar pemalas taik kucing tol! Hehehe... Best best best!!!

Am sure malam tu akan meriah especially for the kiddos... Kasi can kat bebudak nak happening2 kan... Kecik2 party takpe... Dah beso nanti nak berparty2, nak bersosial, nak berronggeng2 tak tentu hala, memang nak kena tuing ngan mommy... Tak sesueiii untuk JIWA haaa.... Kalau nak berparty jugak, jom kita berparty kat rumah satu family pasang disco light sekali! Tetiap minggu nak berparty pun mommy kasi! Hehehe...

Wahhh!!! Amaran keras tuuu! Macam ler anak2 aku paham pun! Hehehehehe...