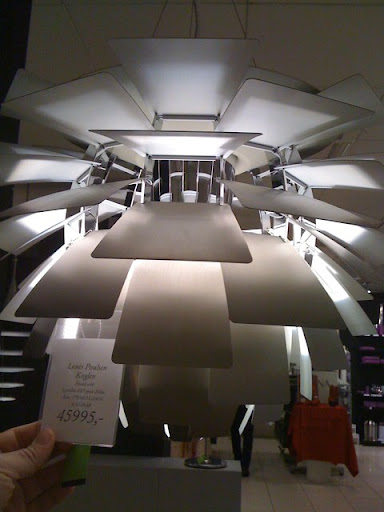 I MUST keep my promise! Semalam aku janji nak bagitau apa keistimewaan lampu tu kan... And now, am gonna reveal the secret! Jeng jeng jeng....

But before that, i want u guys to:

- Take a GOOD and SHARP look at the price tag!

- dont blink! Not even once!

- there you find the answer!!!! *clap clap clap*

Kalau istimewanyer Hang Tuah pada huruf 'Ta' nyer... Tapi, Keistimewaan (kegilaan!) lampu tu terletak pada HARGAnya! Bukan pada rupa parasnya ataupun pada warnanya... Tapi, cuma pada HARGAnya! Huhuhu...

Dengan sukacita aku tolong convertkan utk korang,

DKK 45,995 = RM 31,407.69

Tak yah nak gosok2 biji mata korang yang kompem tak gatal tu yea... Memang SAH ini kenyataan bukan KHAYALAN! Bukan jugak JADI2an... Ini betul2 Takde tipu2 ok!

And the best part is, this lamp is sold at MAGASIN, a normal shopping mall like Parkson Grand kat mesia tu... Bukan la tempat2 yang exclusive bagai nak rak yea... Hehehehe...

so, ada brani mau beli?! Hehehehe....

... Aku mampu pandang2 jeling2 aje...