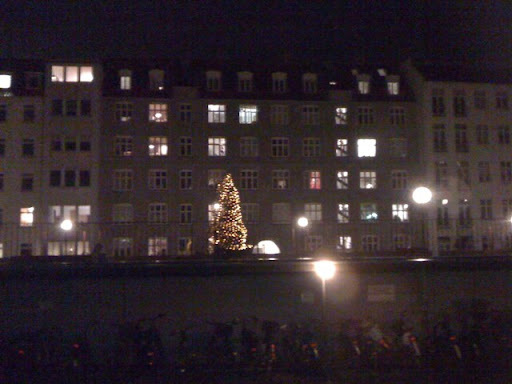 A few days ago we saw some men were busy putting up a christmas tree in the middle of the courtyard behind our apartment... Masa tu aku cam endah tak endah jer tgk pokok tu... Biasalah skarang ni kan musim org beli pokok christmas... So ala2 tak heran la konon...

But only this morning that the tree caught my attention... Altho tree tu togel camtu jer without any ornaments on it but it looks really OUTSTANDING! Maybe becoz dia dok kat tengah tu sebatang kara dihiasi oleh lampu lip lap lip lap kot... Pastu keliling semua gelap, dah sah2 la tree tu becomes centre of attention.... Walaupun dia hanya sebatang pokok yang stiff! Hahahaha...

Tapi, since ada christmas tree tu kan, aku rasa ala2 meriah semacam aje tau... Pastu tetiba aku rasa rumah aku ni pun turut berseri2 jugak! Hahahaha... Tetiba aku perasan macam courtyard tu belong to me and only ME! Over giler kan aku nih!

How i wish i have a huge courtyard like that to my ownself! Tapi aku tanak letak chrismas tree... Aku nak letak pokok frangipani bebanyak... Then siap ada kolam ikan... Ada patio... Pastu at one corner ada barbeque area just next to the swimming pool plus jacuzzi! Wow wieeee!!!! Berangan berangan berangan!!!

Dari x'mas tree berangan sampai ke laut lepas!! Ni semua gara2 Tuan Beso!!! Siyes dia la yang punya angkara membuatkan aku tetiba dibuai mimpi 'ISTANA IDAMAN'....

Syiokkk nyerrr berangan!! Malam ni kita mimpi taman di ISTANA IDAMAN plak lah! Chaiyok! Chaiyok!!