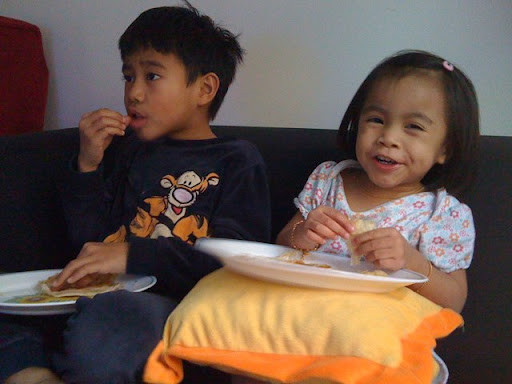 Sakit otak punya pasal sebab buat homework tu, aku suruh aiman take a break kejap... Bagi mind dia rehat dan mind aku COOL down! Ekekeke... Teruk no bunyik nyer yeak!

And memandangkan kejap lagi we all ada birthday party to attend, so aku prepare light lunch aje for them... Roti perata sajer! Kui kui kui!

Tu pun yang instant from the freezer straight into the pan! Giler pemalas nak masak kan aku nih! Mujur anak2 aku selamba badak aje tak cerewet! Senang keja mak dia arini!

Nasib korang la anak2 oi! Janji tak mati kebulur! Kekkekee...