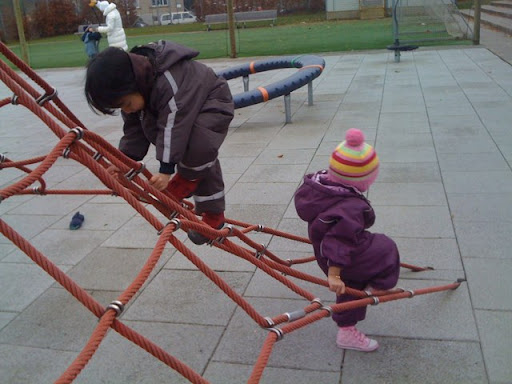 We had a great company today... Sufiya and her mom! Since morning until evening time... A day full of excitement despite the gloomy weather!

Me, truly enjoyed talking and laughing with sherry... While the girls were most of the time fighting with each other over this and that!

Nevertheless, that did not stop us from having a good one-to-one mothers' talk session... Hehehe... Of cos, we know how to handle the kiddos before they got too cranky... Kui kui kui!

Picture above was taken at CIS' playgroud... If sufiya is joining the skul next year, we've got to see each other more often! Am so looking forward for that!

Anyway, no need to wait until next year laaa.... Tomorrow we will be meeting again... For rhythmic class.... Dah lama rasanya alyssa cuti from going to the class... She's all excited and i am too! And after the class, i've promised sherry to help her out with karipap making... Am sure we will have another great day together tomorrow! At least, to have a good company around me, i will never get so depressed during this time of the year at this side of the world! U cant imagine how it feels if u havent gone thru it... Ini kenyataan bukan khayalan! Kekekeke....

Tenkiu sherry for the time spent with me... After all, i've truly enjoyed your great company and hoping for the same at your end...