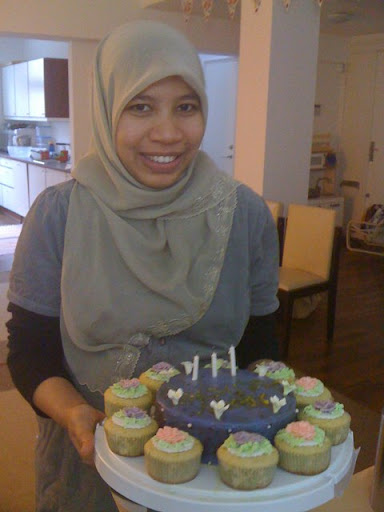 Woohooooo....

Mari kita ronggeng2 party2!!!

Kita Goyang2 gelek2!!

Hibur2kan hati! Yeehaaaa....

Weehehehehe... Kalau orang tak kenal aku surely org akan kata... "mak aiii minah ni... Social in da world! Party all the time!"

Hehehe... Tu la kot stetmen yang dok tenggelam timbul cam sabut kelapa dalam kepala otak dorang and korang... Guwe nih kaki party! Dapat kengkawan pun seKAPAL TOBANG... Sket2 party yea dak! Hehehe...

Tapi we all bukan buat sebarangan party you! Tak main la party biasa2 ni... Tak gempak! Tak high profile! Tak masuk dengan JIWA! Hiks! We all layan *X-rated* party jer! Owhhh gitu!! Wieeee!!

Anyway, we all gathered today to celebrate our dear WAWA's birthday... And the SURPRISE party for her went so GRRREATT with a bunch of great people around... We had so much FUN in da house!

Owhhh yezza YEZZA yezza... up to NOW ni, we NEVER failed to have fun and surely will ended up sakit usus perut after seeing each other... nEVeR! Dah tuuu, bila dah berjumpa tu, kejanya asyik gelak GELAK gelak! Padanlah memasing nampak MUDA REMAJA selalu... Hehehe... Petua ni petua... Sesapa nak awet muda meh join the club!

Memang setiap kali we all berjumpa2an, CONFIRM bergegar laaa rumah aku ni dengan hilai tawa mak2 orang yang over da vavazzzz nih! Walauponnnn ahli jemaah yg dtg tu tak pernah cukup! Last minute sure ada yang tak dtg.... Cuba Bayangkan kalau kehadiran ahli memberangsangkan... Agaknya kena buat tiang concrete baru la kot for my house ni... And Agaknya wawa tengok kakak2 dia ni mengilai pun naik gerun... Dok pegang2 la perut tadi! Anak dia dlm perut tu sama bergegar kot! Hahahhaa.... Nasib baik laaa dia tak TERberanak tadi! Otherwise... Sendiri mau ingatlaa... Kui kui kui...

Ok ok ok... Sudah2la tu mengomel... Pot pet pot pet tak habis2... Jom kita nyanyi sket nak... Hopefully snow tak turun la lepas dengar suara lemak merdu bak katak puru ni! Hahahhaa...

Khas untukmu adinda WAWA:

...hepi birthday to you!
...hepi birthday to you!
...hepi birthday to wawa!
...hepi birthday to youuuuuuuuu!!!

Tarikkk kasik panjang 10 harakat yea yang last skali tu... Hahahaha....